Pasay City North Tramo High School joins a new venture with Asia Pacific College (APC) as they were invited to conduct their yearly In-Service Training (INSET) at APC campus.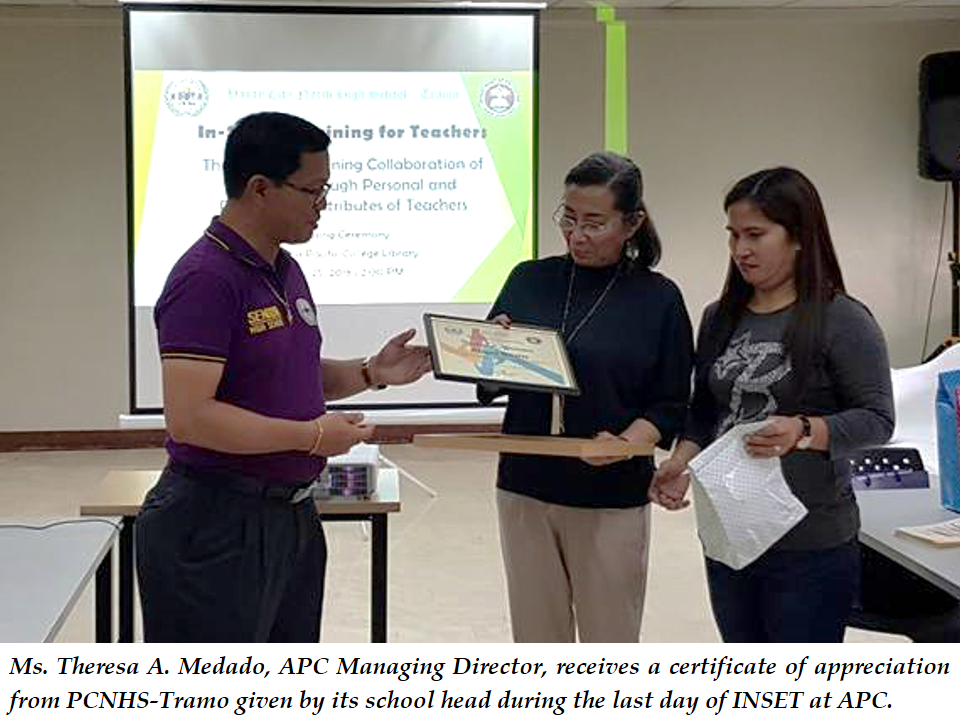 Mr. Nunilon L. Moreno, School Principal II, and Mrs. Rosa R. Alferez, Assistant Principal II, signed a Memorandun of Agreement with APC's Managing Director, Mrs. Theresa A. Medado. Part of their partnership is to let the  faculty experience the facilities of the school's campus.
Last May 22, Teachers and Subject Group heads attended their Day 2; INSET at APC's school library.
Ms. Medado, also known as "Ms. Tata" welcomes them warmly and shared their experience with the students of PCNHS-Tramo, she was amazed and commended the quality of teachers the school has.
Invited speakers from their college were chosen to share their skills, knowledge and expertise to the faculty, such as making power point presentation more interesting to students and the use of online sites as storage for their files and how to make a research.
To assess teachers' learning during the 5th day seminar, Mrs. Marizan Tapel from English Department and Ms. Grace Espago, ICT teacher, demonstrated teaching during the last day of INSET before the awarding of certificates.
To show appreciation to APC's support, PCNHS-Tramo awarded a certificate of appreciation to Asia Pacific College during the awarding ceremony last May 25 and looks forward to more projects with them.
By Jade Geneblazo